The State of the (Federal) Budget
An Ominous White House Announcement
On Monday the White House announced that the president would propose a 10 percent spike in defense spending, offset by cuts across other agencies' budgets. It's unclear at the moment what those cuts will look like.
Offsetting the proposed increase would require $54 billion in cuts across non-defense discretionary (NDD) spending. This is about an 11 percent cut from current funding levels, and does not take into consideration the administration's pledge to protect funding for the Veteran's Administration.
It's important to remember in talking with policymakers that our programs have already taken a big hit: WIA/WIOA formula programs have been cut 40 percent in real terms since fiscal-year 2001. The below chart is drawn from the slide deck from the National Skills Coalition's very informative webinar of last Thursday.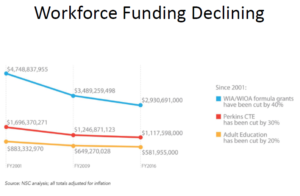 While actually less than those Freedom Caucus calls for ($6.5 trillion in cuts over 10 years) or that of the Heritage budget proposal ($1 trillion in cuts per year), these would take non-defense discretionary spending well below its lowest level in the modern era. According to an analysisby the Center on Budget and Policy Priorities, the Trump proposal would take the share of NDD spending below 3 percent of gross domestic product – easily the lowest since 1962.
As for timing, March 14-16 has been the rumored release window for the president's fiscal-year 2018 budget for some time. However, appropriations staffers on Capitol Hill report no contact with the Office of Management and Budget, which prepares the president's budget and only recently got a director. I will be participating in meetings with appropriations staff this week, as part of a contingent of representatives from the Coalition to Invest in America's Workforce, and will hopefully learn more.