Muhamed Salevic: Learning from Mistakes and Helping Others to Avoid Them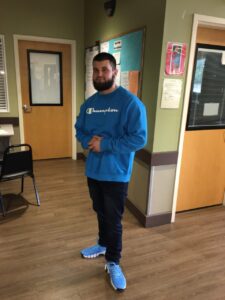 Quick Take. Muhamed Selavic spent seven years in a variety of correctional facilities before finding his calling as a peer mentor. Then, based on his experiences, he created Washington State's first formal peer counseling program for individuals in juvenile rehabilitation. Muhamed shared his experiences as an Action Hour presenter at NYEC's 2021 Annual Forum.  
Early life. Muhamed Salevic is a first-generation Bosnian American born in Vancouver, WA. His dad was a truck driver and was away from home for significant periods of time, while his mom worked evenings and took care of Muhamed and his little sister and brother during the day.  
"I did really well through fifth grade," Muhamed says, but then the family moved to another neighborhood away from his friends and relations. That's when things began to deteriorate. "My parents got divorced," he recalls, "and I started getting suspended in middle school where I was exposed to drugs and gangs, and in high school I joined a gang."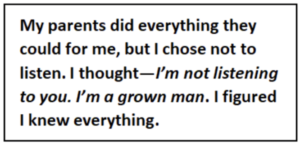 Fortunately, along the road Muhamed realized that this wasn't the life he wanted. This evolution was influenced by three related factors: caring relationships with older inmates who helped him understand the importance of discipline and self-confidence; a steady disillusionment with the realities of gang life; and his growing affection and concern for his child.  
Muhamed determined to leave gang life and worked hard to make up his educational deficits, earning a GED and taking several college courses. "At this point," Muhamed says, "I'd begun to turn myself around." He also became interested in peer mentoring and advocacy and took courses in those fields.  
A New State Law Makes All the Difference. Muhamed's life took a major turn based on the enactment of a new Washington statute that allowed individuals who were currently in the adult DOC system and no older than 25 to apply to return to a juvenile rehabilitation placement to complete their sentences. Muhamed developed a presentation to back his application to return, appeared before a decision-making panel, and was one of several dozen young inmates that were approved for transfer back to JR.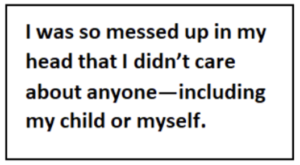 "When I got back," he recalls, "I realized the opportunities that were being offered and that many staff really cared about me. Before I looked at it like—these people don't care about me. They're just here to get their money and leave—but now I could see it differently."  
 Finding His True Calling. After his return to Green Hill School, Muhamed continued to improve himself. "I took the career apprenticeship program they offered, kept taking college courses, and eventually became a Teaching Assistant in one of them."  
He also began to realize that his experiences could be valuable for other young inmates. "I began to use my experiences to talk with people—not to tell them to stop doing what they're doing. That's what people did to me and I wasn't interested. Rather, I just tell them my story."  
Muhamed quickly saw how powerful this peer approach could be. "A lot of people don't have someone to just sit with them and be present," he explains. "Someone's always nagging them and telling them what to do and how to do it. I don't do any of that. I just share my own experiences and if that helps them to make better decisions then I'm glad about that.  
"At the end of the day," Muhamed now realizes, "I had to fail in order to learn, and so if that's what someone else has to do, then that' the way it has to be. They have to live their own life. I didn't judge them or hold anything against them. I knew how lonely that felt and I wanted to help others feel connected and avoid that pain. The important thing is to be a good listener."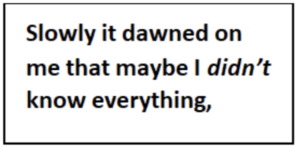 The Creation of M.A.D.E. (Making a Difference Everyday) Men. Based on these positive experiences, Muhamed approached school administrators about expanding peer mentoring at the facility. Appreciating Muhamed's growth and leadership, the administration asked him to write a proposal to implement the program. He recruited several like-minded young people to flesh out the concept, which focused on helping other incarcerated individuals to develop long-term goals, take advantage of opportunities at Green Hill School, and contribute to the community in other positive ways. 
Impressed with the proposal, school administrators approved the concept and M.A.D.E. Men was formally established. Muhamed and his fellow peer mentors received training over the next several weeks, and also benefitted from support from Relevant Engagement, LLC, and its founder Rashad Norris. "Mr. Norris helped us solidify our program, develop our logo, and create our program guide," explains Muhamed, "as well as teaching effective communications skills."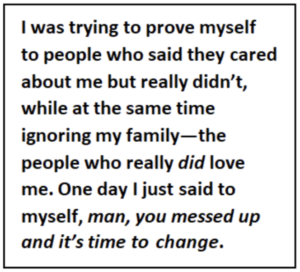 M.A.D.E. Men was the first formal peer-to-peer mentoring program for youth in Juvenile Rehabilitation in Washington State and it quickly made a difference. "Green Hill was a very troubled place," says Muhamed, "but after M.A.D.E. Men was implemented, there was a clear decrease in violent activity and a strong upswing in GED and college coursework." 
The improvements didn't surprise Muhamed. "If you give people the information, the tools, and the responsibilities to learn something new and put something together for themselves, that's when you start seeing change … progress … because you're giving them tools for the rest of their lives.  
Transitioning to Life Outside the Walls. After seven years, the last step in his journey from incarceration was release to a group home, where Muhamed completed his sentence.    
Based on his creation of M.A.D.E. Men, Muhamed became a member of SPARK (Students Providing and Receiving Knowledge), a non-profit organization that provides training leading to a Washington State Certified Peer Counselor credential, as well as information on other careers in social services. SPARK leaders were impressed with his work and offered him a job in November 2021 while he was still serving out his sentence at the group home.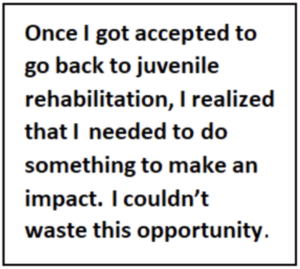 After his release, Muhamed took a position at a warehouse in order to support his family. Interestingly, his peer work seems to have helped Muhamed succeed in his supervisory job.  
"It's funny because a lot of the peer work has helped me so much in this position," says Muhamed. I'm able to move around the floor and get information, talking to people and understanding different jobs. I've utilized the communication techniques I learned in peer counseling and it's a blessing to be able to use those skills at work."  
Under his leadership, the warehouse has made notable improvements in efficiency, but Muhamed's top priority is his peer mentoring work. "Don't get me wrong," he says. "I love the warehouse job, but the end of the day I hope to do peer work full-time and make enough money to support my family."  
Connections to NYEC. "I got connected to NYEC through SPARK," Muhamed explains. NYEC was looking for strong applications for the Action Hour at the Members' Forum in December 2021 and he was asked to present on M.A.D.E. Men. "Of course, I said 'yes' and I put in my application, which was accepted. The Action Hour was amazing. I loved seeing other youth leaders from all age groups and learning about what they're doing."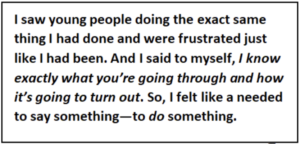 Vision for the Future. Muhamed's hopes and vision for the future reflect his continuing commitment to peer counseling and support. "We've shown that peer mentoring can improve education outcomes and decrease violence," Muhamed says. "That's the power of peer influence, and we should be providing much more support for these kinds of programs."
 
"I believe that everyone should have a peer mentor," he says, "not as an advisor or therapist, but just someone to relate to. I'd love to run my own program using the skills and knowledge I've learned and pass that along, specifically with young people who are incarcerated."  

In addition to his obvious commitment, Muhamed is honest and realistic about his own capacity and needs. "Sometimes I have my days when I'm not a good listener—when I don't want to listen at all. But what I've learned is, when that happens, I just have to be mindful and understand and my needs…engage in a little self-care and then get back to it."  
In keeping with his goal to share his experiences with others, Muhamed has published a wrenching memoir of his journey into and through incarceration. "I always wanted to write a book," he recalls, "and I felt like this was an important story to tell." Entitled, From the Mud, Muhamed's book is available on Amazon and other on-line booksellers.