Train, Place, Organize: Building Worker Solidarity in a Tight Labor Market
Earlier this year the Boston Foundation released a series of papers on next generation workforce development called the Catapult Papers. The papers, written by Jerry Ruben, Executive Director of Boston JVS (with a contribution from myself on the untapped talent piece)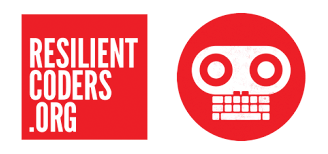 , articulated a new praxis for workforce development organizations in a tight labor market. The unemployment rate in Boston is 2.2%, which provides an opportunity for workforce development organizations to redefine the field to better serve our populations. The Catapult Papers develop four axes on which next generation workforce development organizations can operate: demanding better jobs, being market responsive, scaling impact, and lifting untapped talent.
Even though Resilient Coders is a young organization, these four axes are central to the way we operate. We're a coding bootcamp in Boston which trains young adults of color from low-income communities in software engineering and places them into jobs in the local tech industry. Our training is free and we also provide a stipend to our students. Though we initially focused on coding literacy, we moved to training software engineers because it is what we consider a high-growth career: one that provides advantageous employment at the entry level but also one with promising advancement opportunities. Furthermore, Boston is a national tech hub, considered the Silicon Valley of the East with its large biotech and e-commerce companies, which means there is a high demand for software engineers locally. Through our bootcamp model, we're able to quickly adapt to the demands of the market in terms of technical skills. Indeed, our curriculum never looks exactly the same from one cohort to the next, as we constantly incorporate feedback from employers and local developers, thus keeping a pulse on the needs of the market. While we are market responsive, we're also determined to change habits in the tech industry that tend to discriminate against low-income people of color. One does not need a college degree to learn how to build software, and therefore we ask our employers, and the tech industry at large, to not judge talent based on degrees but based on quality of code and capacity to learn. And finally, we seek to scale through demand; the more companies seek alternative talent pools, the more people we'll serve. We envision ourselves as a viable alternative to campus recruiting for entry-level software engineering talent. In the past few years we have resisted the urge to serve more people despite growing success. This is of course due to our commitment to grow with the number of placements available (we don't want train people we won't be able to place), but also due to a refreshed perspective on the meaning and impact of scaling.
Scaling impact is not the same as systemic impact.
When funders and practitioners think about scale, they generally think about how to increase the number of people served, how to go from a local to a regional and even national level. Sure, at Resilient Coders we believe that increasing the number of people who would benefit from our services is important, but when you ask David Delmar, Resilient Coders' Executive Director, what the goal of Resilient Coders is, he responds "to become obsolete." What that means is that we aim to grow within an equitable workforce development ecosystem in Boston that would overcome the systemic failures of our current labor market, with its over-reliance on college education, assessments, cultural fit, and other practices that perpetuate economic inequities. This is why what we're looking for is not simply scale, but systemic change; and the high demand for software developers in an already very tight labor market makes this the perfect time to push for that change.
1- Changing Habits in Talent Management
As mentioned in our contribution to the Catapult Papers, next generation workforce development organizations act as expert consultants to companies on how to best adapt their hiring and retention practices to engage non-traditional talent pools. Our role then also becomes to identify and respond to the talent needs of a company, but most importantly we need to redefine the way employers interact with the populations we serve. Instead of seeing our graduates as potential risks for having substituted a 14-week bootcamp for a bachelor's degree, employers should appreciate the growth trajectory of our learners, and seek to develop them within their companies. In order to do this well we are moving from the business of placing individuals into jobs to the business of building alternative employment pipelines for companies, thus having a more comprehensive impact on the recruiting activities of our employers.
In 2020, we're launching a 20-week bootcamp, which combines our foundational technical program with employer specific training. We work with large employers with predictable hiring needs who'd like to hire 5 or more engineers at a time, and design with them a pipeline from Resilient Coders to their company. This pipeline includes technical training, talent matching, company informed training, and support for both the employees and their managers. This model introduces companies to new modes of hiring entry-level software engineers outside of campus recruiting.
2- Building Worker Power
Improving practices at target companies cannot be an end in itself, as it relies on the good will of companies to uphold these practices and fails to address the underlying power imbalances between employee and employer. The capacity for workers to obtain good jobs should not depend on the tides of the labor market and unemployment rates. So even though next generation workforce development organizations should be market responsive, they also have a responsibility to restore workers' voices in workforce development. Mary Downey, Founder and Executive Director at BEST Hospitality Training, puts it best in her response to the Catapult Papers:
"There is an inherent imbalance of power between employers and workers. The tension between shareholders and workers will always exist. So, let's push the needle even further. Let's figure out a way to give the worker voice and agency and collective bargaining power. I don't know whether you call it a "union" or "collective bargaining" or "worker voice". Maybe it's changing laws or influencing funding priorities. Maybe it's revising tax policy. But let's do whatever it takes to balance the playing field. Then, truly, will we have achieved lasting quality jobs that work for both the employer and the employee."
Workforce development organizations broker the relationship between workers and employers with the goal to correct the imbalance of a labor market that tilts in favor of employers. However, in order to really address this imbalance, we have to get to its causes: that is, the dismantling of collective bargaining power (e.g. labor unions) since the 1970s, which correlates with the rise of wage stagnation; the global nature of the labor market, which puts in competition workers from every corner of the world, thus leading to a race to the bottom; the advent of the gig economy, which puts workers in precarious employment; or even the constant threat of automation.
In the tech world, we're seeing more and more attempts at worker solidarity, whether it is across borders or across job types. At Resilient Coders, we're thinking through our place within the labor movement as a workforce development organization in the tech industry by attempting to answer the following questions: How can we organize our graduates to ensure they have a voice within their companies, and within the tech industry as a whole? How can we support the labor movement and be allies to workers' rights organizations? We are still at the beginning of our reflection, and so at this point these are unanswered questions.
Rouguiatou Diallo is the Chief of Staff of Resilient Coders, a workforce development organization that aims to build economic resiliency in Boston's black and brown lowincome communities by providing access to software engineering opportunities through training, placement and support for young adults of color. Her role includes defining, implementing and tracking the organization's progress toward its strategic goals. Prior to joining the Resilient Coders team, Diallo worked as an analyst for the management consulting firm McKinsey & Company, focusing on performance management and impact assessment in the public and social sectors. She has lived and worked in Paris, Montreal, Brussels and now Boston, always with a commitment to tackling socio-economic inequality. She holds a political science degree from McGill University.